20 Aug 2021
Down, Set, Hut!  Football season is officially upon us and its time to throw on your favorite jersey and root for your team.  If you find yourself in south Kauai during game time, don't worry about missing out on the action.  Here are our top 5 Kauai Sports Bars in Poipu to watch the NFL games:
Spend some time lounging at the pool at Poipu Beach Athletic Club then stop by The Cabana Bar and Grill to watch the game from the bar or a near by table.  Catch your favorite NFL team on any of the six large, flat screen TVs on Sunday's at 7:00 am, or Monday and Thursday nights.  Take advantage of The Cabana's $5 menu during the game.  We suggest the Kalua Pork Sliders. They are winners for sure!
Location: 2290 Poipu rd, Koloa, Hawaii 96756 *located in the Poipu Beach Athletic Club*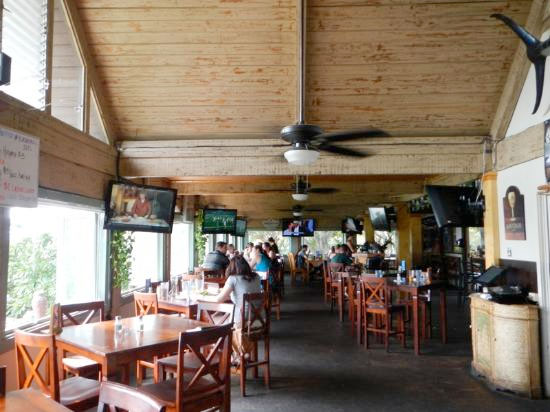 The Westernmost Sportsbar in the US offering up a wide variety of local and traditional favorites.  Watch your favorite team one of their many screens while you enjoy one of the best Happy Hours on Kaua'i.  Their garlic fries are to die for!
Location: Right next door to the Suite Paradise Office, 1941 Poipu rd, Koloa, Hawaii 96756
Catch the game in Brennecke's second floor, open-air dining room with a great panoramic view overlooking Poipu Beach Park and the ocean. Great food, friendly service, and a casual beach-front environment all add up to a great game day! Give the coconut shrimp a try. It's long time local favorite!
Location: 2100 Hoone Road, Poipu Beach, Koloa, Hawaii 96756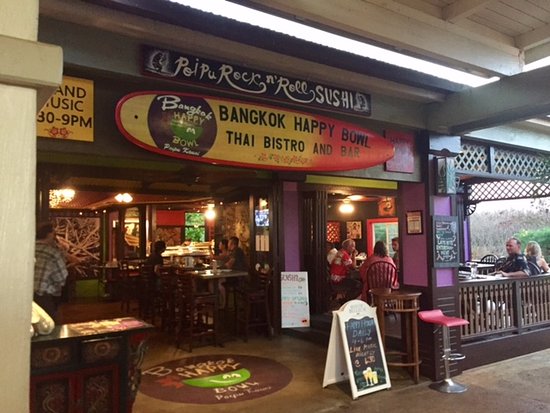 Feast on yummy thai dishes & fresh sushi while you cheer on your favorite team in this colorful, laid-back bistro. Get a little bit of everything with the appetizer sampler.
Location: 2360 Kiahuna Plantation dr, Koloa, Hawaii 96756 *located in the Poipu Shopping Village*
Photo Courtesy: Keokis Paradise
Easily a local favorite! The Bamboo Bar at Keokis Paradise is the place to be with live entertainment, delicious food, and satisfying tropical drink options.
Location: 2360 Kiahuna Plantation drive, Poipu
Don't feel like going out to catch the game?
No problem! Pick up some pupus and enjoy the game in the privacy of your living room.  Here are a few of our local Kaua'i favorites:
Poke (pronounced poh-keh) - Cubed raw fish seasoned with sea salt, often times marinated in soy sauce and sesame oil, and tossed with limu, seaweed.  You will find many variations of Poke found in the seafood department of most grocery stores in Hawaii.  Try some poke from Koloa Fish Market, 3390 Poipu Rd, Koloa, HI 96756 
Wings - You have got to try Dad's Fried Chicken Wings from Kiawe Roots!  They are ginger marinated chicken wings, togarashi, chili pepper water and they are mouth wateringly delicious!  Find Kiawe Roots at The Shops at Kukui'ula, 2829 Ala Kalanikaumaka rd, Koloa, Hawaii 96756. 
Calamari - Hit up Keoki's Paradise for an order or two (or three) of Fried Calamari Strips.  They are unlike the usual thin cut crispy calamari strips you may be used to.  These are thick cut, dipped in batter, deep fried, and served with a sweet guava cocktail sauce.
Start Planning Your Kauai Vacation
Plan your Kauai vacation with Suite Paradise today! Now that you know all of the best restaurants in Kaua'i to catch the games, choose the perfect Kauai vacation rental for you and your family. Whether you want to relax and catch the game from the comfort of your own vacation home or spend the day out in the sun, Suite Paradise has your dream family getaway.